Farmer's Stories | Melida Montero - "I am Made of Coffee"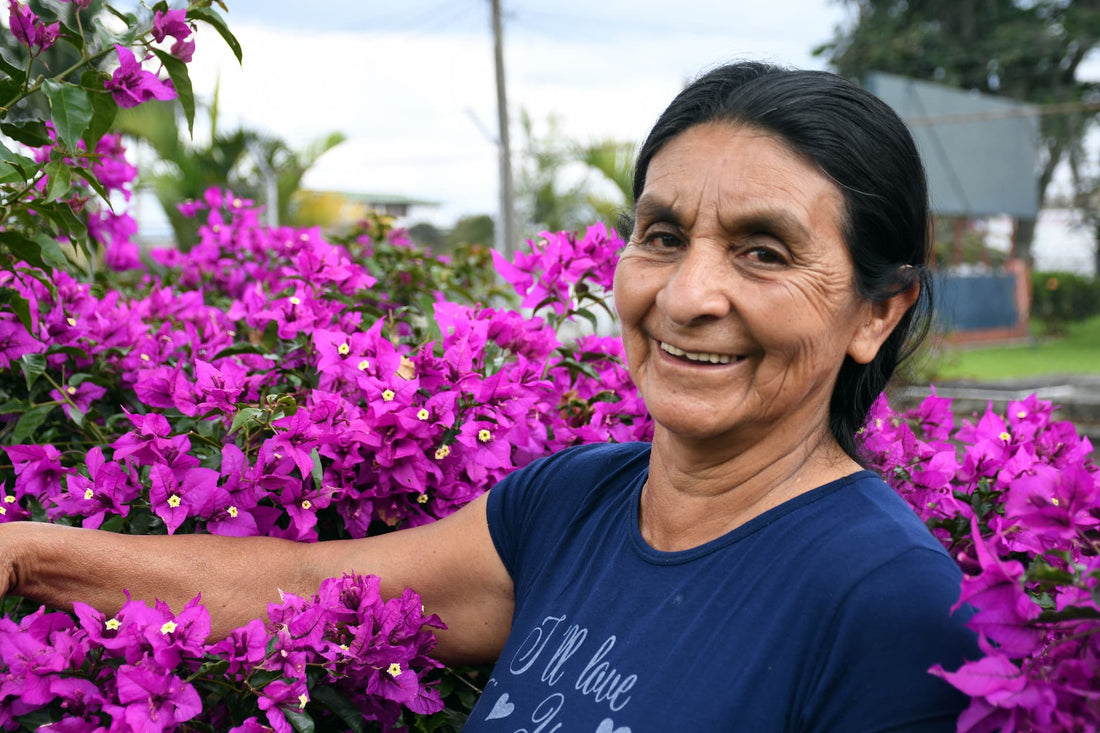 Mélida stands on her farm and gazes out at the thousands of coffee trees in full bloom. She breathes in the perfume of the azahar, the coffee flowers. "I give thanks to God, because all those flowers tell me there will be a good harvest."
Mélida Montero inherited her coffee farm, El Mango, from her parents 40 years ago. "I have always grown coffee, my parents always grew coffee, and my grandparents always grew coffee. I raised my children on coffee. Coffee is my roots; this is what I've been given in life."
Life on a Colombian Coffee Farm
"Here on the farm, after the rain, the farm is peaceful. And the plants are like…when you get a shower and you come out of the shower feeling so fresh."
"But when we're in harvest time, then the air is sweet. Because the coffee is sweet, and you can smell it in the air. 
"When harvest time is over, we're tired, but now we can rest! And we feel satisfied, because we can pay off debts. That's why I love coffee, because it gives us what we need. On the farm, I have everything I need."

Community and environment
Coffee is more than just a source of income to Mélida. It's about community. "I belong to the Chapa ethnic group, and I am proud of my ethnicity. I belong to a community. 
"And in my ethnic group, we take better care of the environment. We've never used chemicals to grow coffee. Organic is better for everyone, and the way we grow coffee helps protect us, the planet, and those who drink our coffee. Organic makes us strong – I'm stronger than many young people!"
"If we don't take care of the environment, we don't have anything. We wouldn't have water, we wouldn't have anything."
Family supports family
As a single mother, Mélida raised her seven kids on coffee. "I've been able to give my children everything because of coffee. We're not rich, but we always have food. And I can support other members of my family when they have a need."
Now, Mélida's children and grandchildren are also coffee growers. "My children help me. I live with my daughter and a granddaughter. But many family members who don't live with me live close by, and they always come to visit me."
When harvest season rolls around, the whole family comes out to support each other. Most of her family grows organic coffee, and they take turns at each farm to make sure the harvest gets done on time.  
The future
How does Mélida envision working at something else?
Mélida is fully committed  to coffee. "I still grow coffee because I am grateful to coffee. I've never done anything but grow coffee. That's what I'll do while I'm alive. 
"But if I could make more money from my coffee, I would love to fix up the house. And I need to improve the coffee drying area. And purchase more land to grow more coffee."
"My coffee, which I grew and worked hard to produce, tastes very good. It tastes delicious, like caramel. It tastes so good because it's the fruit of my effort, it's what I've accomplished." 
"I am made of coffee."
#movingforward #together
Written by: Karen Attman - Latin American Coffee Academy 
Indiegrow's Blog
Thank you for taking the time to read. Our goal is to tell real stories through our blog. If you'd like to write something together, please contact us!